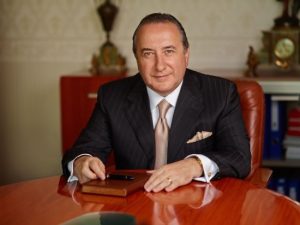 Founder and President of the Romanian Association of Building Owners (RABO) 
Vice-Chairman of the Managing Committee of the European Property Federation (EPF)
Liviu Tudor, founder and President of RABO, has more than 25 years of business entrepreneurship experience, out of which 20 years in the commercial property and real-estate field.
Liviu Tudor was appointed Vice-Chairman of the Managing Committee of the EPF (European Property Federation), headquartered in Brussels, Europe's leading organization representing owners, investors and developers of real estate assets, valued at euro 1.5 trillion. Liviu Tudor is also Secretary General of the Romanian Association for the Club in Rome (ARCoR) and a member of World Presidents' Organization (YPO/WPO).
Mr. Tudor is the chairman and founder of Genesis Development, a real estate investment and development company, that owns Novo Park and West Gate, two class-A business parks in Bucharest, Romania, spanning more than 150,000 square meters of leasable area, where more than fifteen thousand people work. The two business parks are situated in the North and the West of the Capital and accommodate the headquarters of such multinational companies as: HP, Infineon, Sodexo, Siemens, Accenture, Luxoft, Société Générale, Unicredit, Alpha Bank, Citi, Ericsson, Dacia-Renault, Garanti Bank and many others.
Liviu Tudor graduated from the Polytechnics Institute of Bucharest, with a master's degree in Aeronautical Engineering. Mr. Tudor completed his studies by attending London Business School and is currently enrolled in a doctoral program within the Bucharest University of Economic Studies.