Communications Director RABO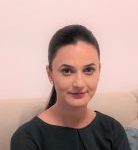 With over 7 years of experience in communication, Delia Serban has received her BSc Degree in Communication and Public Relations in 2009 and her Master's degree in Models of Communication and Public Relations in 2011, from the University of Bucharest. Also in 2011, she was awarded a Diploma in Public Relations by the Chartered Institute of Public Relations, London.
She specializes in external communication, corporate communication and branding, including creating various high-quality PR materials, building and maintaining strong media relations, management of industry events and social media strategies. During her career, Delia has been working for brands from FMCG, Retail, Banking, IT and Legal sectors.
She has a genuine passion for communication, her passion being to work with companies to help build their brand and standout in the marketplace. As a specialist, her strengths include high level administration, diary management, analyzing performance data and project coordination.